MaterialDistrict present
Sustainability
Meets Design
MaterialDistrict has created a curated experience of over 100 international surfaces at this year's show. Unexpected performance and innovative aesthetics will be found in materials featured for their lightweight recycled content, their durability and other distinct properties and visual appeal. There are products for exterior and interior use created to satisfy both form and function.
The development of hard materials is all about new surfaces, sustainable challenges, and creative digital techniques for smarter ways to add that wow-factor to construction. What are the latest developments?
As well as those materials already familiar to the sector such as sintered, solid surfaces and quartz, how about cast basalt; industrial metallic finishes; acoustic lightweight concrete; curvy natural stone paper; 3D printed structural support beams; recycled trash terrazzo; translucent materials; others that absorb CO²; smart composites – even one combining stone with wood; water-absorbing tiles; and much more…… you've got to see it… touch it… experience it to believe it. Come and be inspired.
Visit the gallery in Zone I40
Huguet Recycled Terrazzo
The innovation in Huguet Recycled Terrazzo has no relation with the process, which remains as traditional as it has always been, but that the aggregates (traditionally marble dust) in this case are replaced by recycled glass or pieces of Nike shoe soles. Totally unique, it is a product which is expected to last a hundred-years and is always repairable.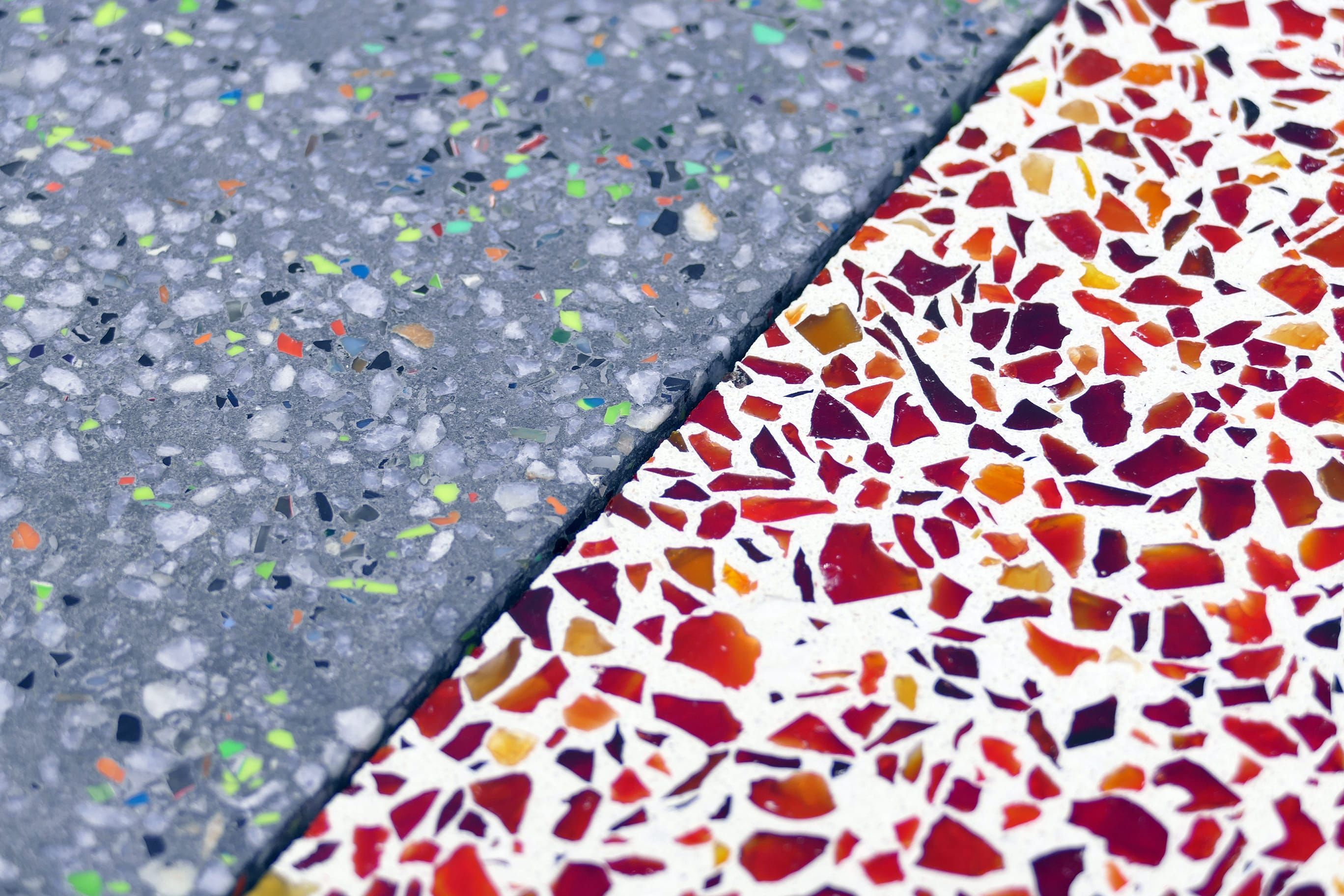 Huguet Recycled Terrazzo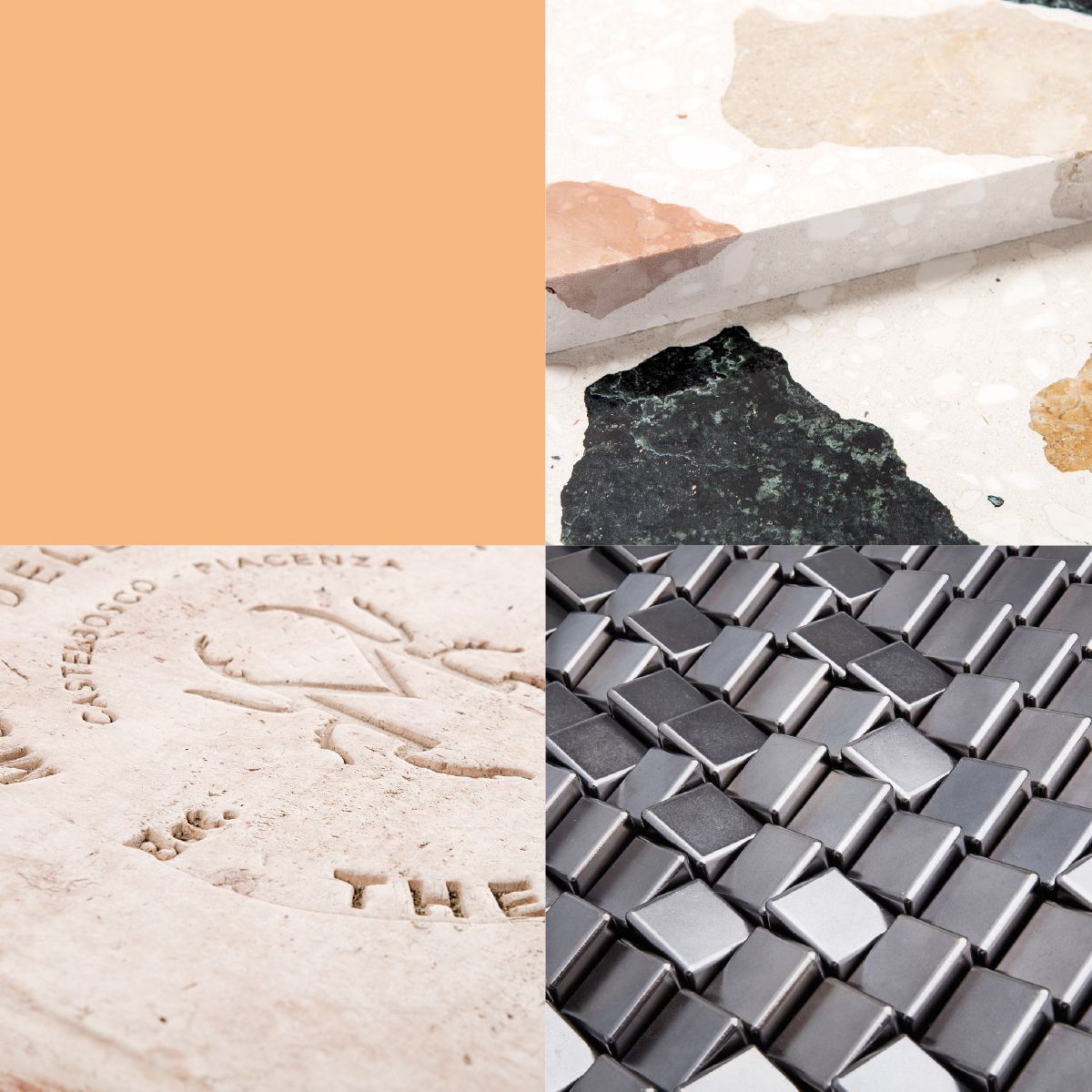 Solarix Colours
Dot is the first collection in Solarix Colours, an extensive selection of energy-generating façade panels which pay attention to the correct structure and materialization of the colours in combination with high energy yields.
In its quest for a vibrant colour experience, the Solarix design team was inspired by the structure of textiles in which different shades, colours and yarns are combined for depth perception.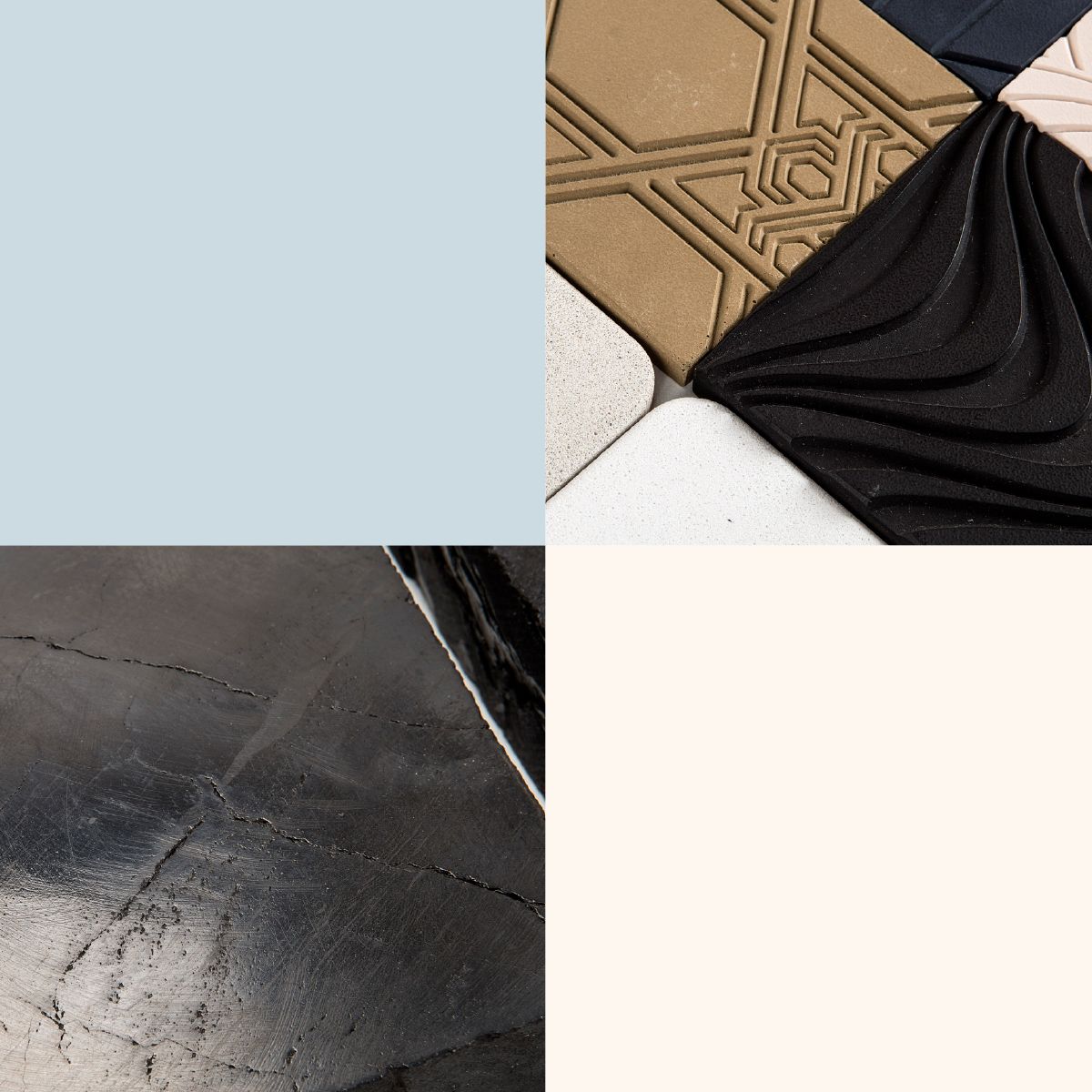 Common Sands – Forite
Common Sands – Forite evolved as a collaborative research project between Studio Plastique and Snøhetta, with the aim of exploring the potential applications of recycled E-waste glass. This led to the development of a process to create glass tiles using recycled glass from microwave ovens. The tiles have been developed in two different sizes and are both opaque and transparent, each with a unique pattern and expression.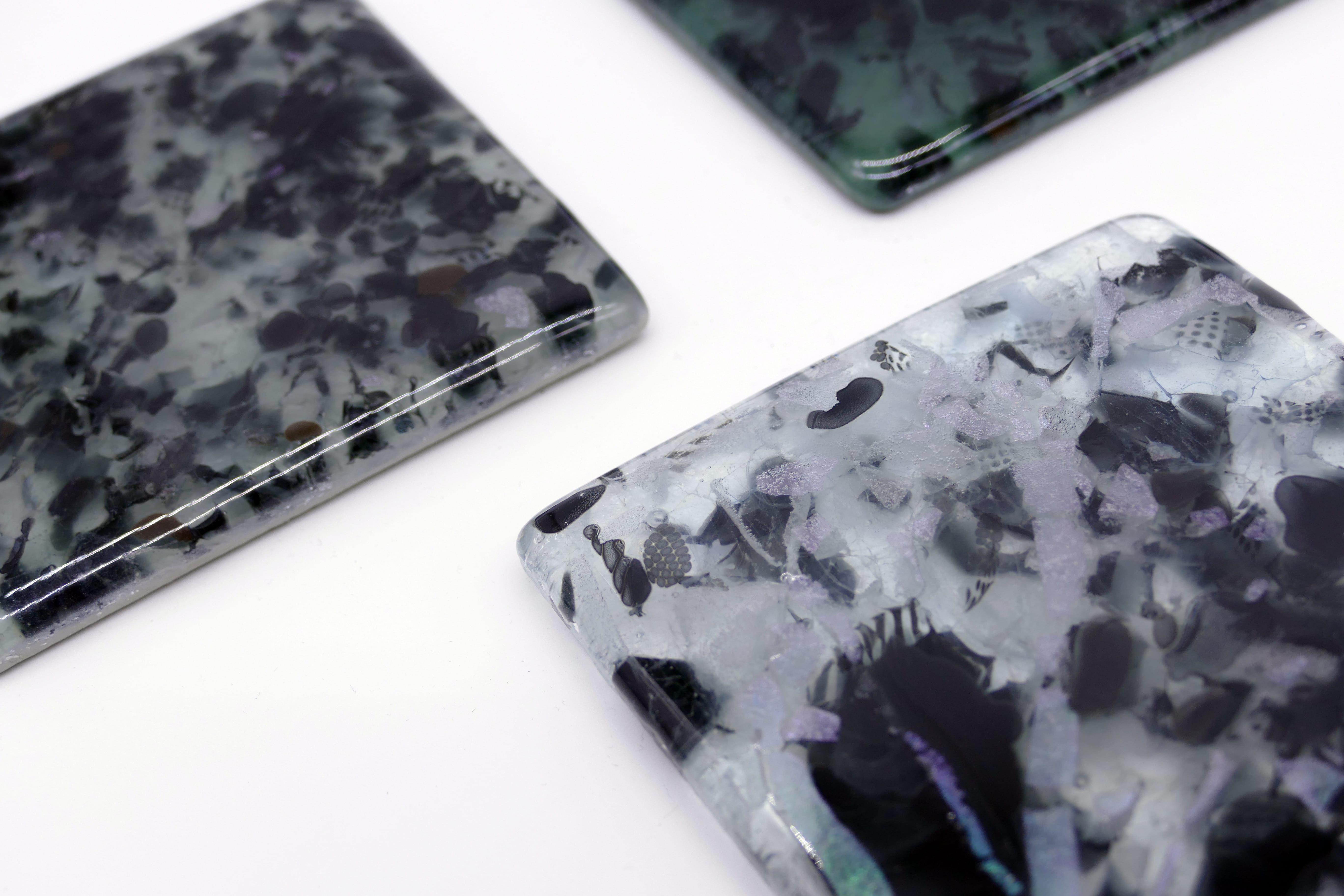 Common Sands – Forite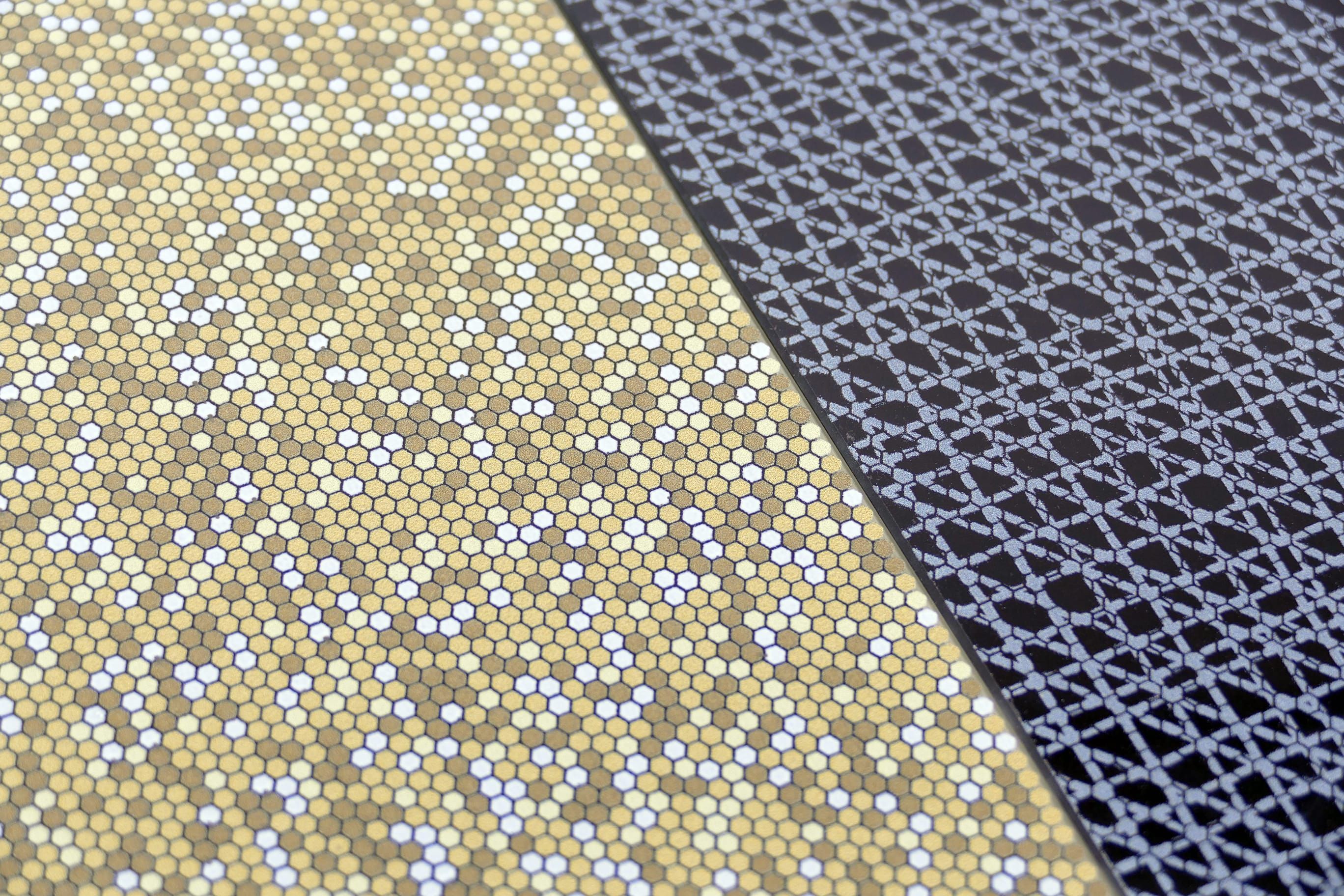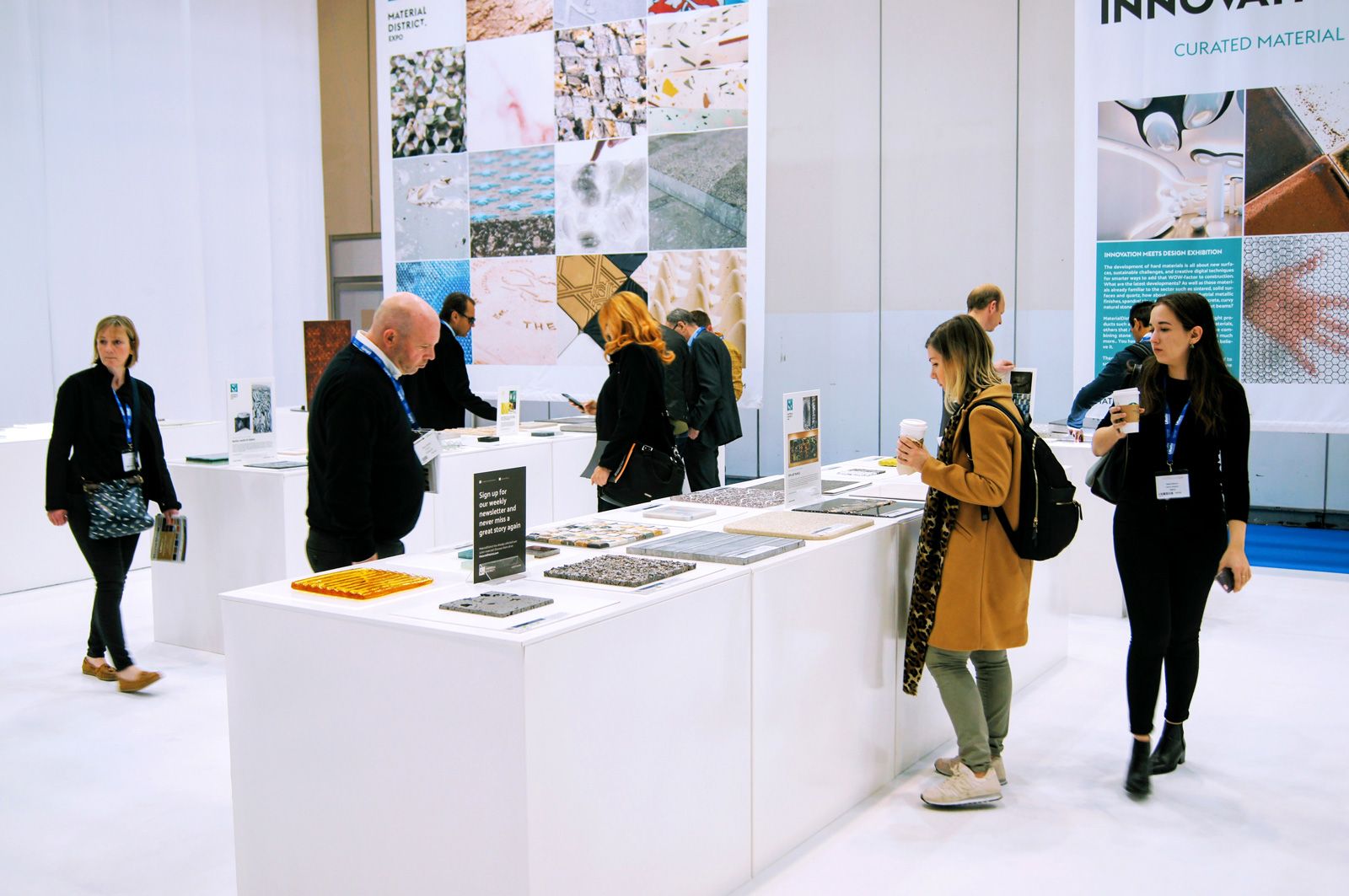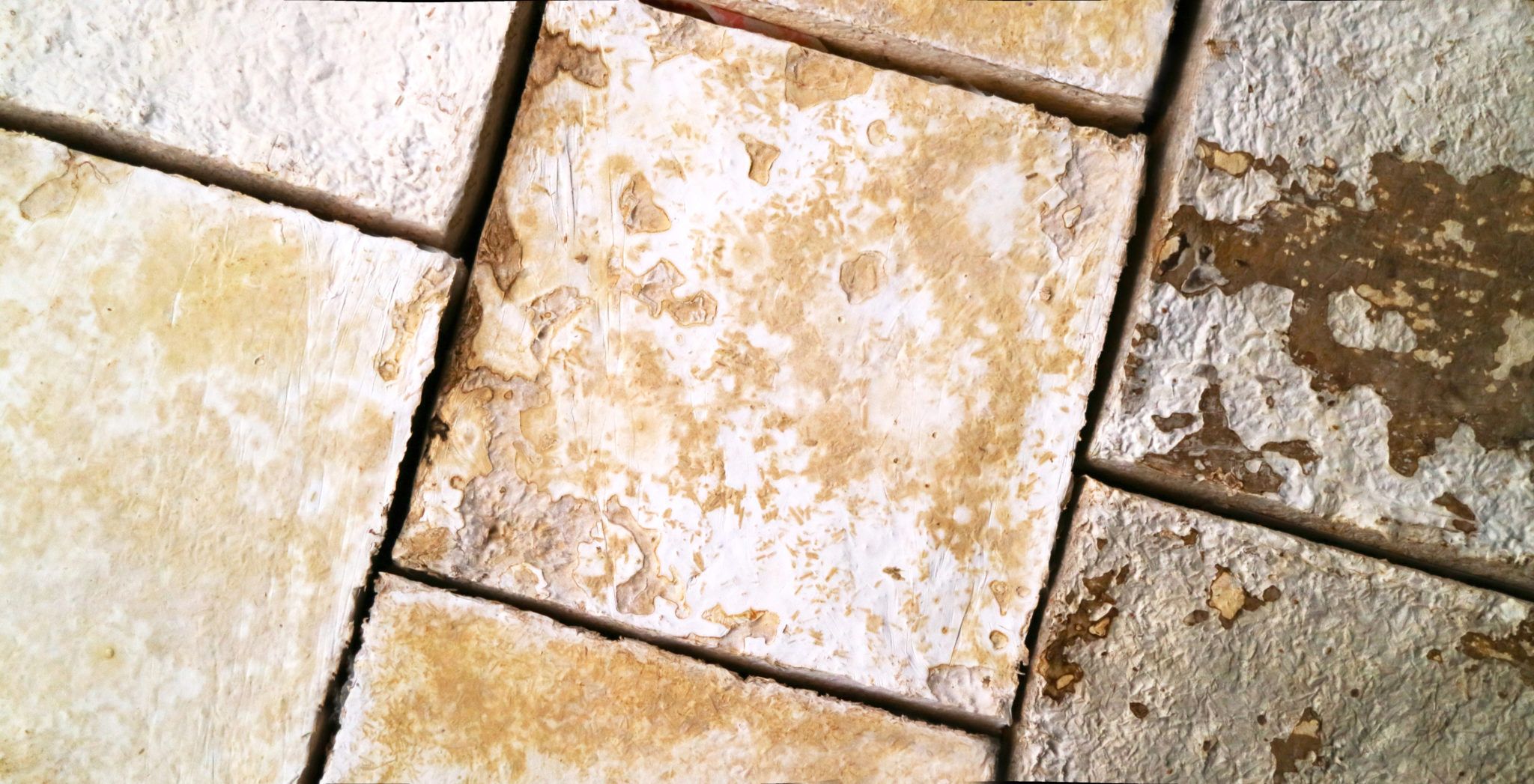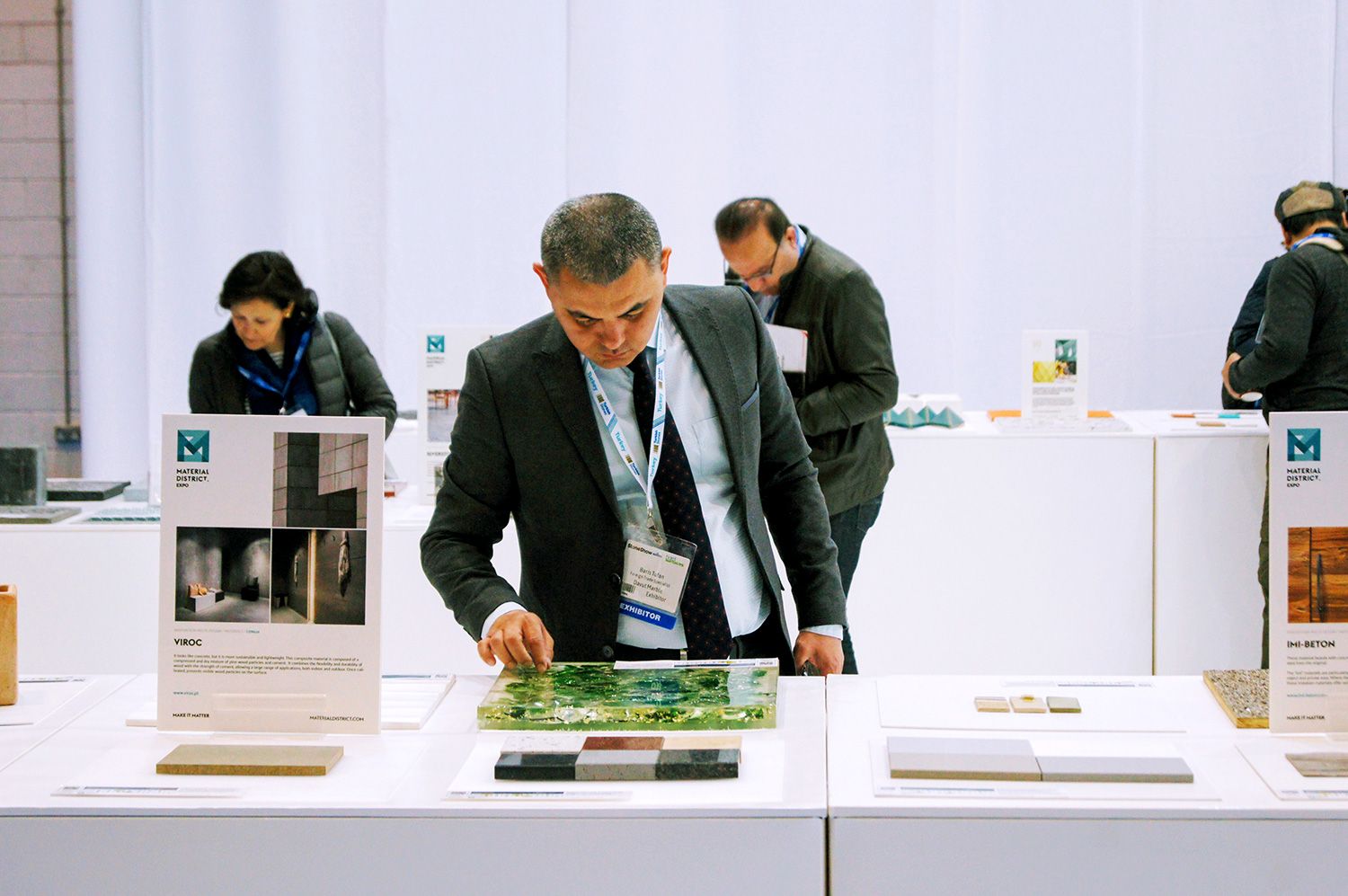 BioBasedTiles
BioBasedTiles are the first ever tile that grows with the help of bacteria. The concrete tiles, using Biocement developed by Biomason, have among the lowest carbon footprint on the market. Biocement combines carbon and calcium to produce a biologically formed limestone material consisting of approximately 85% granite from recycled sources, and 15% biologically grown limestone. Growing in less than three days they're 20% lighter than a concrete block, but three times stronger.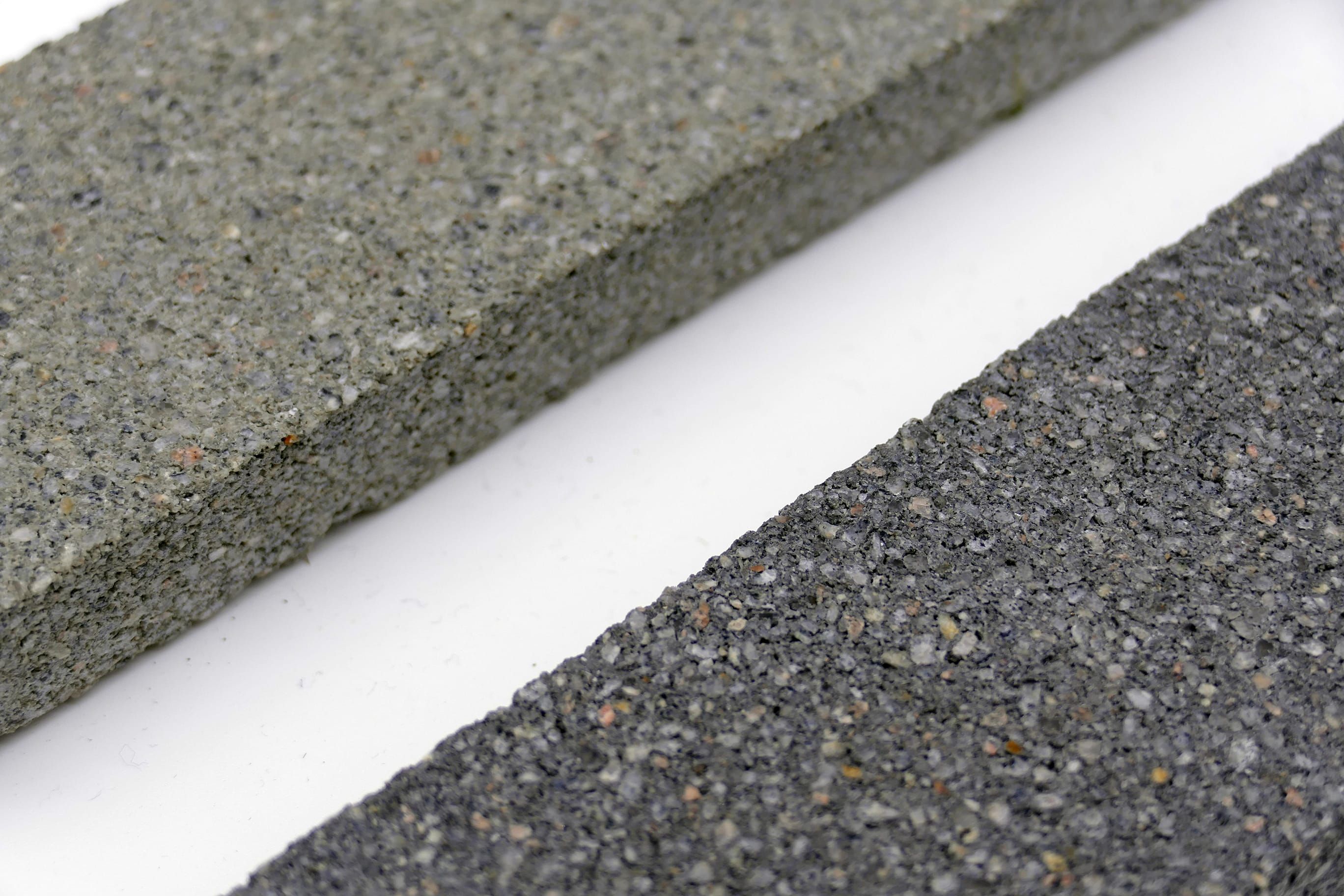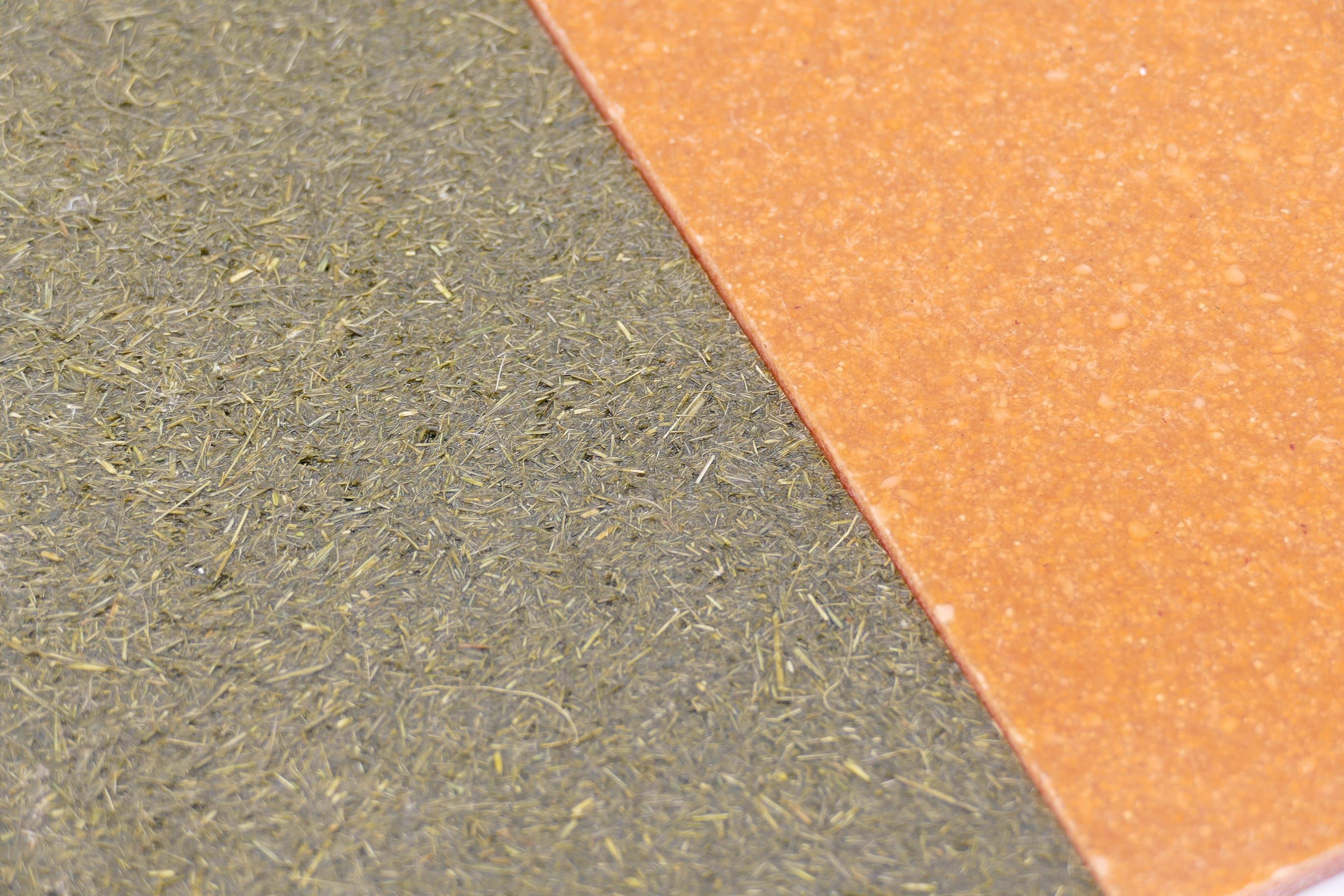 Ottan
Ottan
After Ottan gathers all kinds of natural wastes – such as fruit peels, expired grains and garden waste – it cleans, dries and grinds them before mixing with green resins and injecting into moulds to create multi-purpose products.
Each of the materials produced upcycles an average of 65-85% organic waste. Ottan materials are an alternative to wood, acrylic and marble, and do not contain any colourants or additives – reflecting the characteristics of the waste they're made of.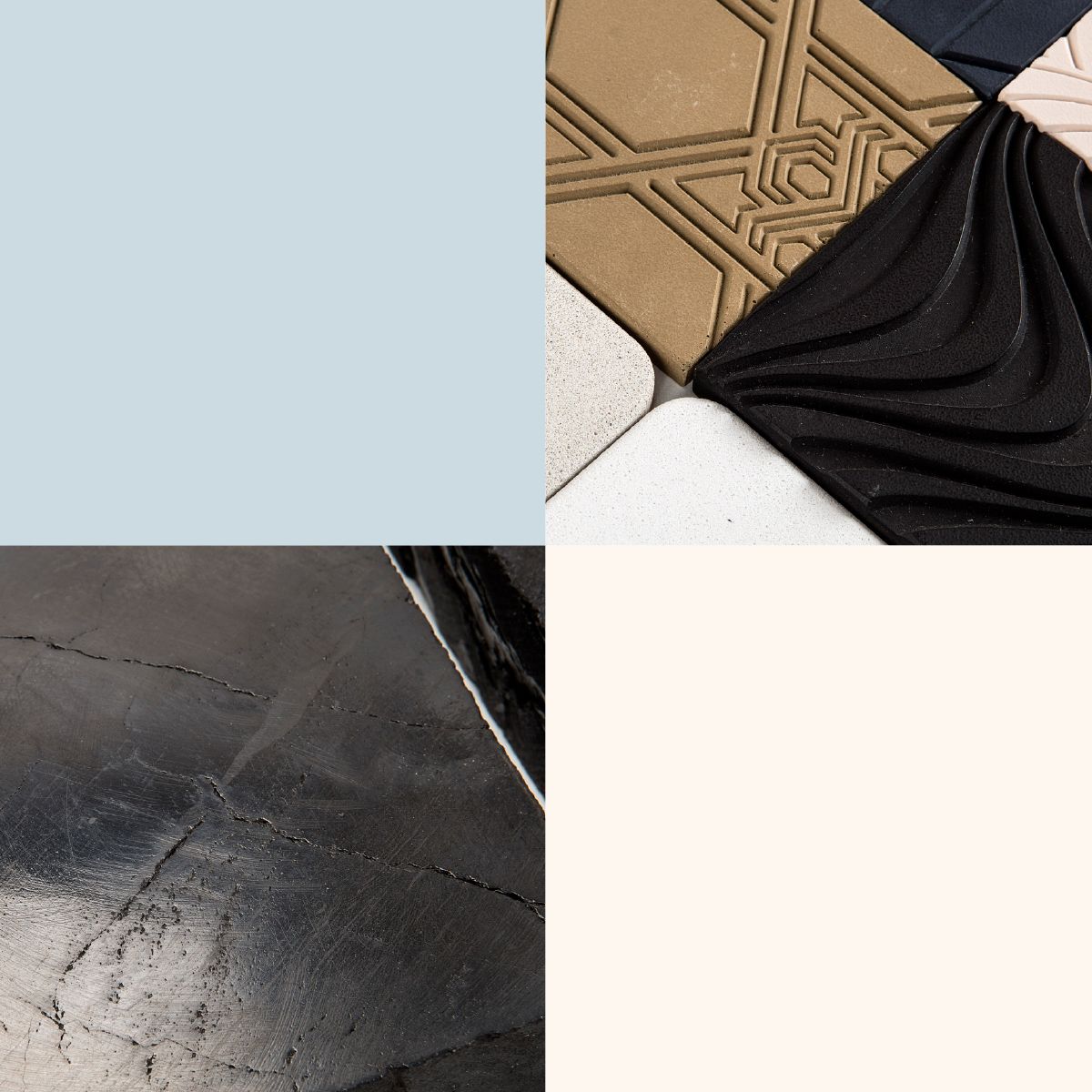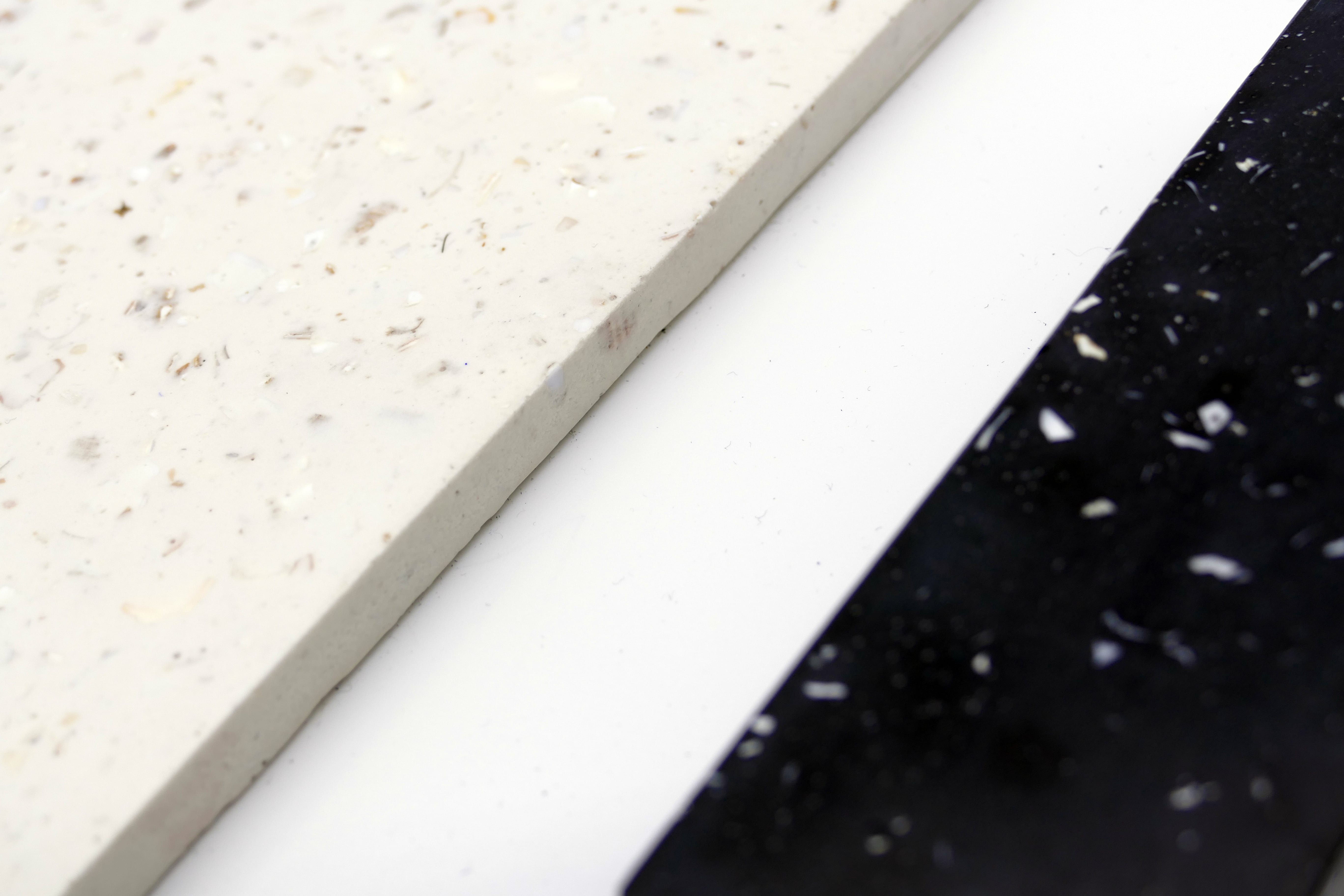 Molelk
6 to 8 million metric tons of shell waste gets generated by the food industry every year, most of which ends up in landfill. Molelk is a composite material that's made of recycled shell and seafood waste from the fishing industry, giving it a new lease of life on land.
With its subtle, soft, muted tones it works as a natural aggregate with neutral or bright base colours, making it a perfect material for small or large-scale surfaces such as table tops and furniture.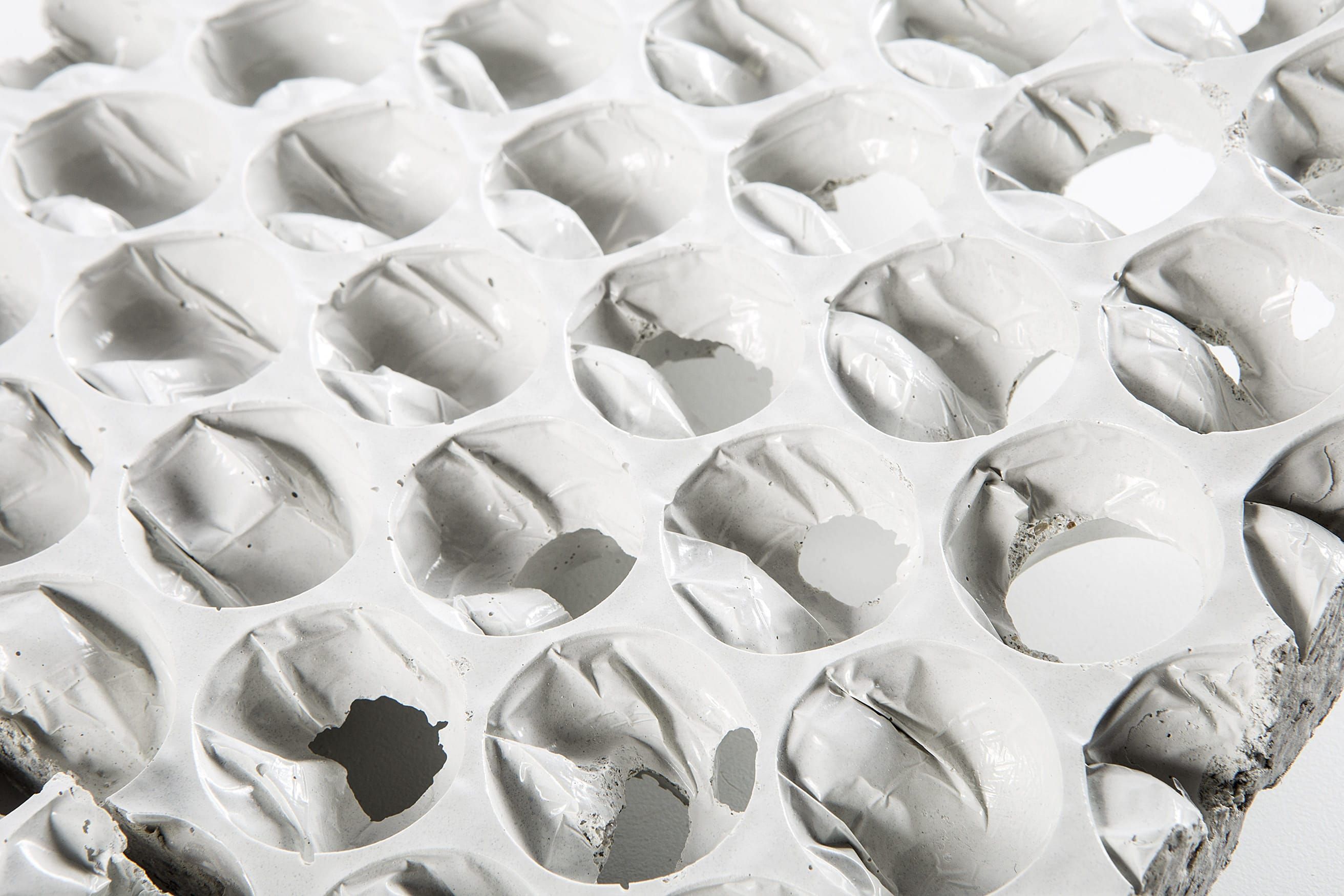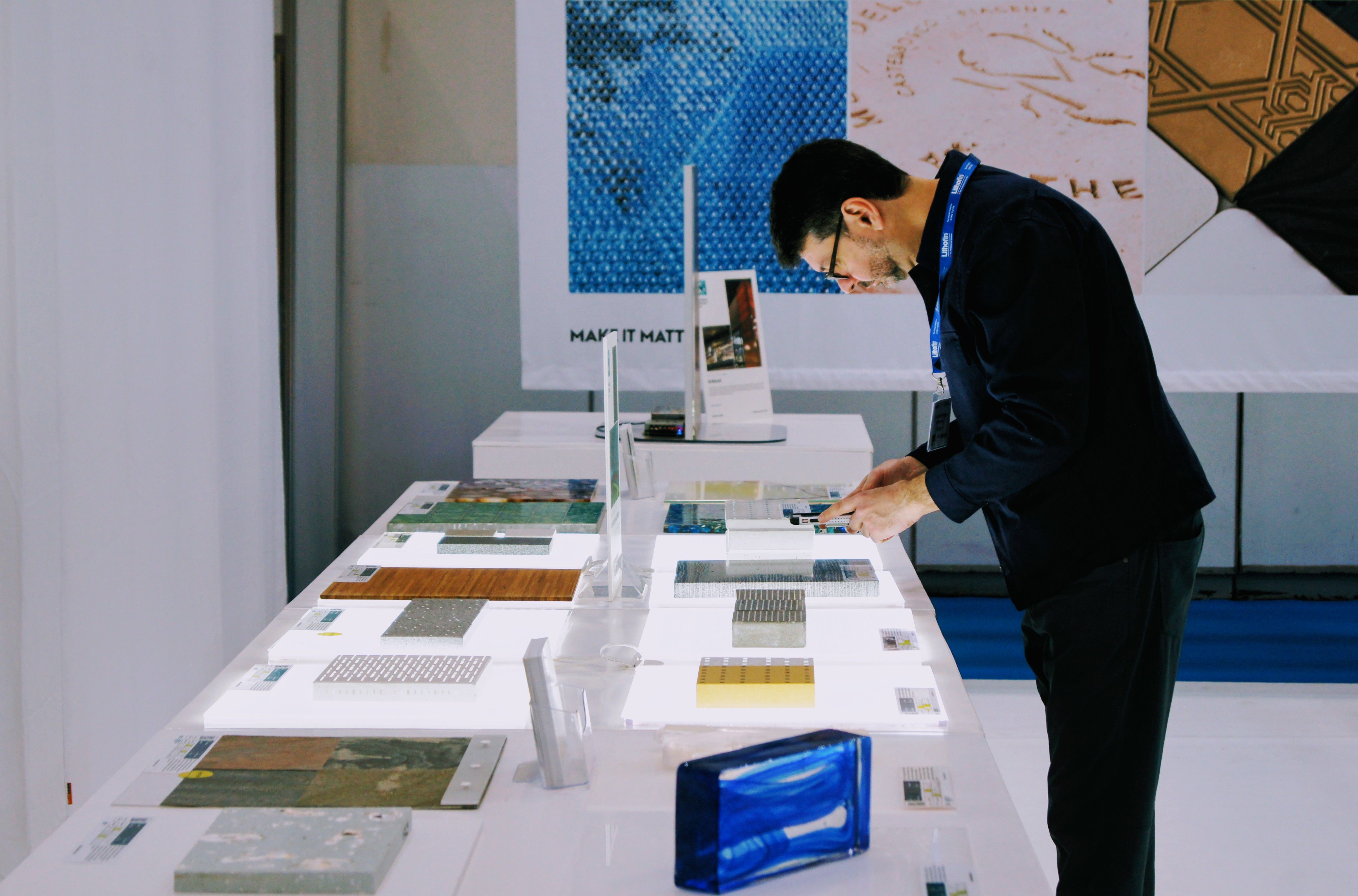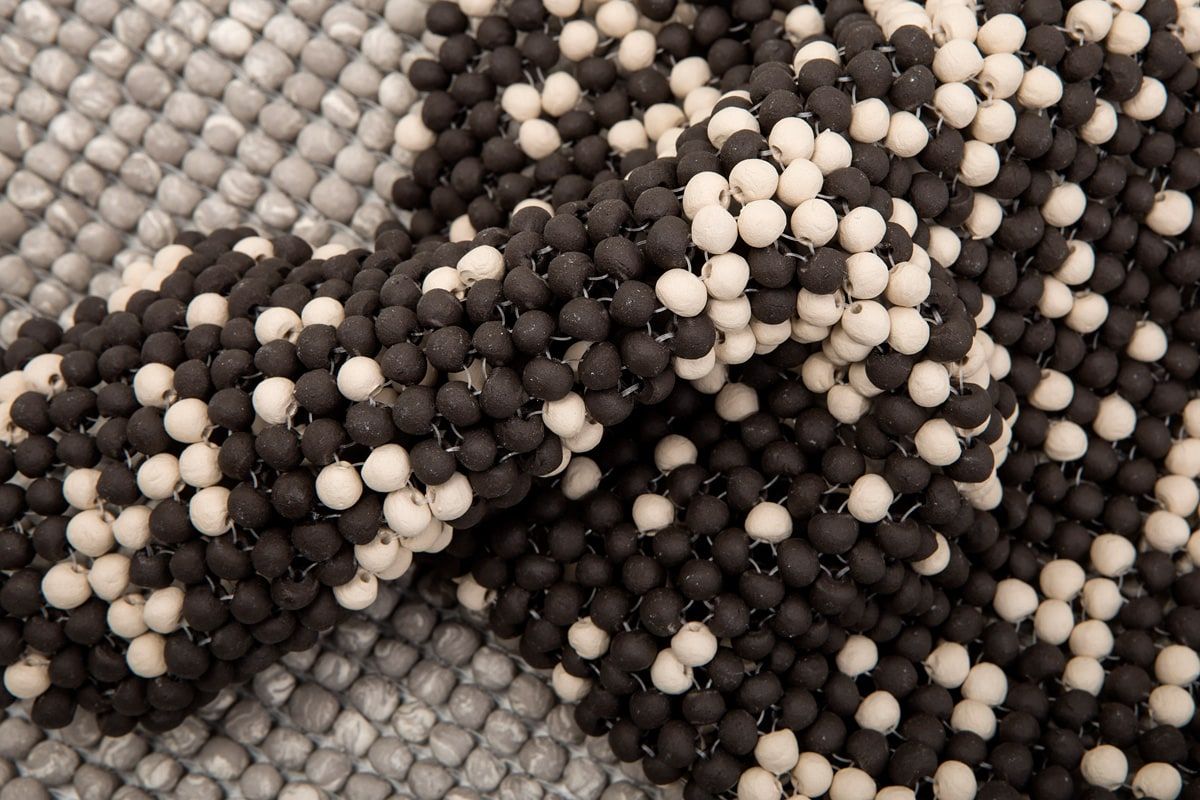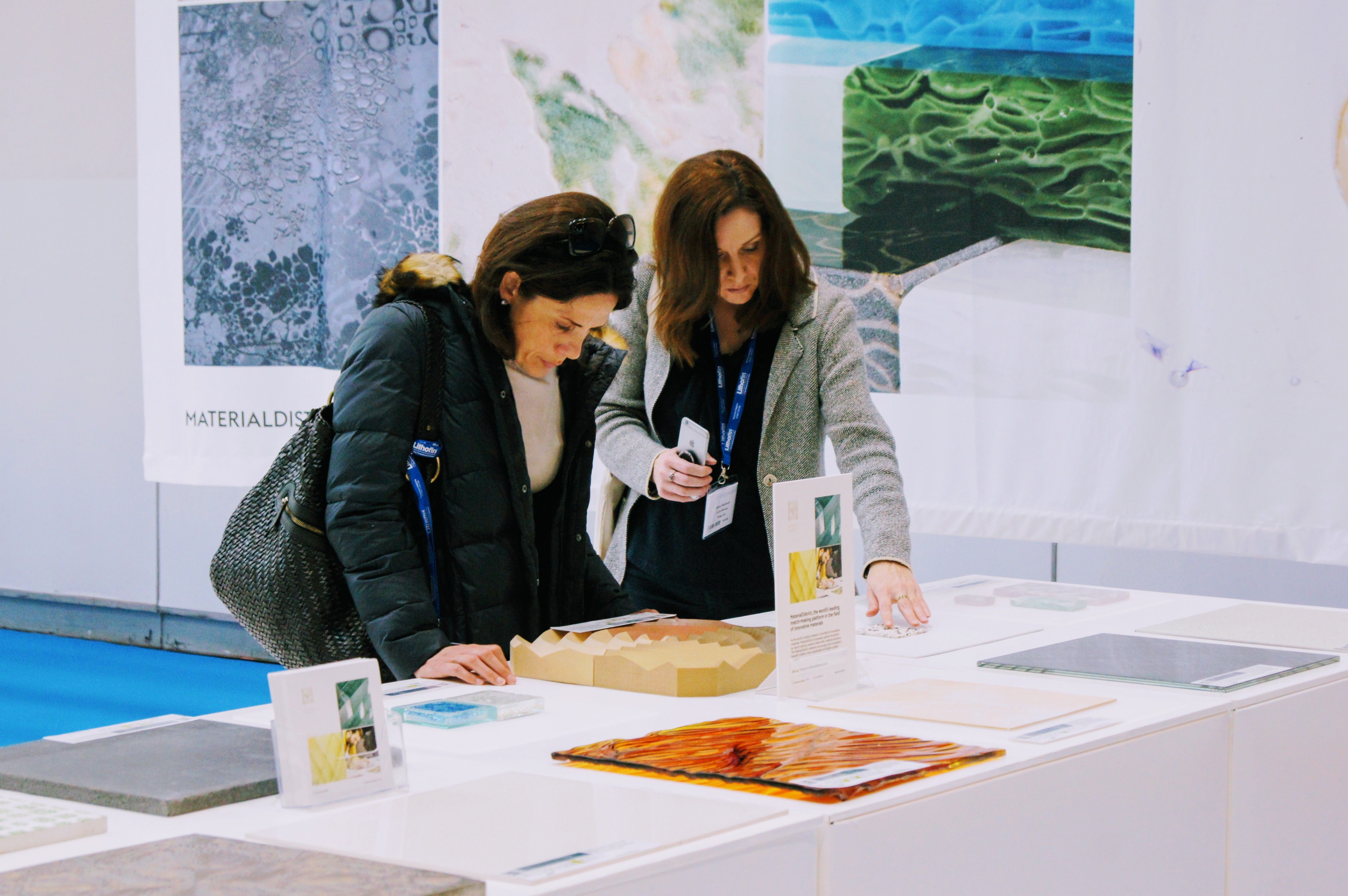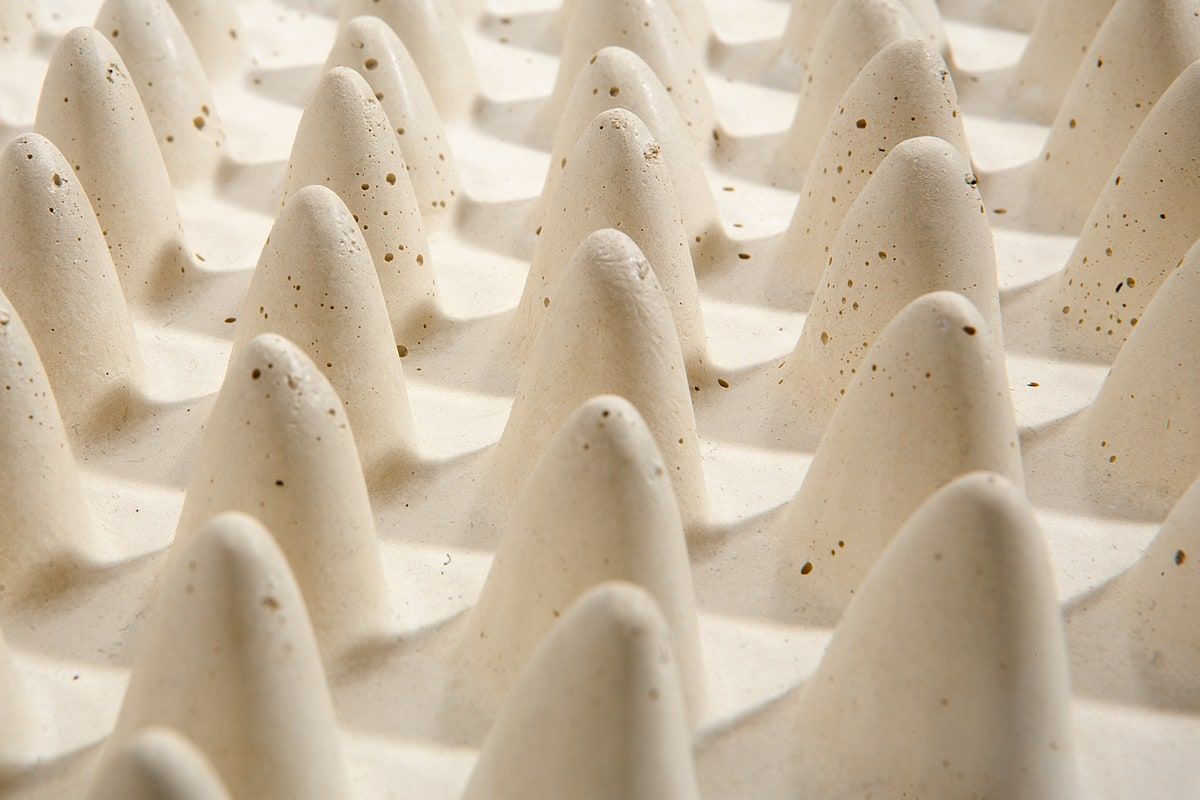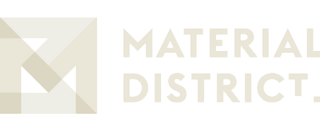 MaterialDistrict (formerly Materia) is the world's leading match-making platform in the field of innovative materials. MaterialDistrict's value as a high-end materials inspiration source is clear: 150.000+ R&D- and design professionals of all industries are using our platform to discover new material solutions. Daily via MaterialDistrict.com, annually at MaterialDistrict Rotterdam and periodically throughout the year with travelling MaterialDistrict Expos, MaterialDistrict Talks and MaterialDistrict Pop-Up events.
As the world's leading network in the field of innovative materials, MaterialDistrict empowers global innovation by match-making material needs with material solutions. With six market sector categories - 'Architecture', 'Interiors', 'Apparel & Textiles', 'Urban & Landscapes', 'Products', and 'Sign & Print' – the MaterialDistrict network encourages joint innovation towards a better, more sustainable and higher quality society.
The Natural Stone Show will be complemented by Hard Surfaces, the new event showcasing the latest products and trends in the fast-moving field of surface design. Hard Surfaces brings together the full production, design, specification and purchasing chain and is the only exhibition in the UK focusing exclusively on Hard Surfaces and directly related products and services.
By co-locating, The Natural Stone Show offers an attractive proposition for architects, designers, developers, fabricators, specialist contractors, installers and KBB outlets.